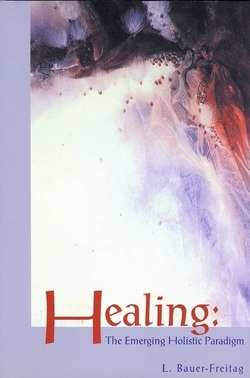 HEALING:
The Emerging Holistic Paradigm
This book defines the framework for integrating the various healing modalities into one comprehensive mold. It offers a uniform language to bridge scientific disciplines, and but one definition each of wellness, disease and holistic intervention. "Mind" and "soul" are defined, at last, as very tangible and scientifically measurable energy fields, with untold implications for healthcare, all of science and how we live our lives.
Receive a complimentary copy--a $16 value-- of this work during your first visit, as a LIFE VISION CLIENT, combing coaching and energy work.
​Used books available from amazon.com:
http://www.amazon.com/Healing-Emerging-Holistic-Paradigm-Baur-Freitag/dp/061511458X/ref=sr_1_1?s=books&ie=UTF8&qid=1421442211&sr=1-1&keywords=Healing%3A+the+emerging+holistic+paradigm


New copies available directly from the author. Send payment (PayPal orcheck) of $16, plus $4 S/H to:
L. Bauer-Freitag
107 Sunset Drive
Greenville, SC 29611
5-STAR BOOK REVIEWS:
"Healing: The emerging holistic paradigm...
it's a good book
!" --
Marc Micozzi, M.D., PhD - Executive Director, College of Physicians and Adjunct Professor of Medicine University of Pennsylvania.
-----
"This thought-provoking book provides an in-depth and philosophical look at the critical situation facing healthcare, as we move into a new dimension. As Bauer-Freitag states: '...We need to remember that healing is gift. It has more to do with a practitioner's personal attributes and innate talents than with formal education, titles and diplomas. While holistic techniques can be taught, they cannot necessarily be duplicated by just anyone with the same results, if necessary personal attributes, most notably the spiritual development...are absent or ignored.'
Can we allow eight weeks of training for a medical doctor to provide the same treatment as one who has the gift for a holistic modality and has studied and practiced for many years, just for the purpose of keeping holistic practitioners shut out and keeping the financial proceeds just for the present medical establishment? Do we not have the right to choose who will provide us treatment and have it paid for by money that we have contributed to our health care insurance?
The present health care industry is surviving on people getting sick and staying sick. '...Many have come to refer to our so-called health care system as sick care.' The present system is run on the quest for money and not providing guidance on healthy living and natural healing methods. These natural methods have been shut out by the control of the pharmaceuticals which is nothing short of organized crime. This is going to change and I hope that L. Bauer-Freitag will be there to help orchestrate the changes."
(Dr. Jean Logan, Author: "Unlocking The Power of Glyphs" and "Sacred Symbols of Light")
-----
"Lilo's book, Healing: The Emerging Holistic Paradigm, is wonderful, fresh, yet timeless. It is breathtakingly honest and a true joy to read."... "Throughout, Lilo manages insightful information, shares knowledge without preaching and infuses a gentle Divine energy into the book. All in all, a good read, a good reference and a book to be kept in your personal library for a long time."
(Suzy Rigby, Wellness Book Review, Fredericksburg, VA.)
-----
"With an impassioned voice, Lilo brings to light the vital importance of a holistic approach to healing. ...Her passion in wishing the best for all people and the Earth shines through as she shares both her research and experience as a holistic healer and therapist. ...She brings together important information, which helps to awaken conscious action and thought in others. She reminds us that the time has come to allow spirit to take the lead in our lives, to embrace our intuition, and to live with heart-centered compassion. In our current world, rife with disease, violence, and toxicity, this is surely the direction we need to move in order to heal."
(Janice Carlin, Author: "The Freedom To Thrive--Reclaiming Our Power To Heal")
__________________________________________________________________________
Essential reading for practitioners and consumers of holistic therapies. Provides an introduction into holistic thinking and conceptualizing life. Suitable as a textbook or supplemental reading in academic settings related to philosophy, psychology and health care. While suggesting applications for all sciences and how we live our lives, it represents the foundation and framework for a new school of thought in Psychology, i.e., "Holistic Psychotherapy." Complete with tables, illustrations and a suggested dictionary to translate between several disciplines, with the goal to find one language, unifying holistic modalities, to which other disciplines can relate.
(Lilo Bauer-Freitag, The Author)
---